Telemedicine is on the rise. The number of patients and caregivers who enjoy the benefits of remote diagnosis and treatment is growing every day.
In this article, we will discuss how telehealth affects the home care and senior living sector. But first, a quick overview of how telemedicine evolved into the invaluable tool it is today.

How it All Started
Even before tech evolved to the point when telemedicine became possible, the idea was already existing. Look at this exciting image from the "Science and Invention" magazine that dates back to February 1925.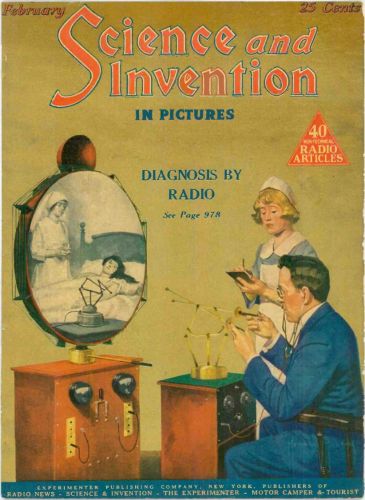 According to the author of the article, this device named "Teledactyl" ("dactyl" means "finger" in Greek) was supposed to help doctors feel their patients.
"The doctor manipulates his controls, which are then manipulated at the patient's room in exactly the same manner. The doctor sees what is going on in the patient's room by means of a television screen."
The whole article is available at Americanradiohistory.com and is definitely worth reading.
However, it took over 30 years for telemedicine to become a real thing. In 1959, a two-way television setup was created at the University of Nebraska. It allowed transmitting information to medical students across campus. In five more years, the same university was connected to a state hospital to provide video consultations.
As in the case of remote monitoring, NASA played a major role in the development of telemedicine due to the need to remotely assess astronauts' health.

How Telemedicine Benefits Home Care and Senior Living
Telehealth skyrocketed during the COVID-19 pandemic. In April 2020, overall telehealth utilization for office visits and outpatient care was 78 times higher than in February 2020.
Here are the main benefits of telemedicine for home care and senior living space:
Accessibility and convenience. Modern technology and internet connection speed allow using personal communication devices for telemedicine needs. There is no need for special equipment to establish the connection between a patient and a doctor.

Safety. Less personal contact means less risk for both patients and caregivers. It is especially important for seniors with chronic diseases whose condition may be affected by contacts.

Cost-effectiveness. Without the need to spend money and time on transportation, telemedicine dramatically reduces the cost of care.

Fewer readmissions. When a patient can consult with a caregiver as often as needed, and all the necessary health condition data is gathered remotely, there is less need for hospital visits. That means more comfort for patients and more productivity for caregivers.
Combined with other advanced tools, telemedicine helps to cover most patients' needs remotely without sacrificing care quality.

The Future of Telemedicine in Home Care and Senior Living
Even though telemedicine has been used for decades, its widespread adoption has started only recently. Now that its effectiveness is proven, the importance of telehealth for the home care and senior living sector will only grow.
And new tech opens exciting opportunities for further improvements in telemedicine quality and convenience. Here are a few examples:
Better hardware. Higher video signal quality will allow caregivers to provide a more accurate diagnosis remotely.

AI-assisted visual assessment. Advanced software may be able to assist clinicians by analyzing the video signal from a patient and providing meaningful insights.

Virtual environments. Imagine a tool that will remotely provide a clinician with a real-time 3D scan of the patient's body.
The possibilities are endless, and we may see major technological breakthroughs in the telemedicine field in the nearest future.

Write the Next Chapter in the Telemedicine History
Telemedicine: Assessing Acuity for Home-Based Care will be the topic of a discussion at HCT Expo, moderated by Cheryl Porro, CTO at Curve Health with panelists including: Honor Chriscoe, Director of Operational Initiatives & Support at CCR (Commonwealth Care of Roanoke); Dave Davis, VP of Clinical Solutions & Integrity at AccentCare; and Iyad Houshan, MD, CMO at WellBe Senior Medical.
Join us on September 7-8 at Gaylord National, MD! For more details, click here.