Home care is a booming market right now.
According to National Health Expenditure Data, overall home care spending in the US first exceeded $100B in 2018 and has been growing steadily since then. By 2028, it's projected to double and reach $201B.
Senior living facilities experienced a major decline following the pandemic outbreak, but quickly started to regain momentum: in 2021, assisted living and independent living properties' occupancy rates increased to more than 80% and 70% respectively.

Why Care Delivery is Moving into Home-Based Settings
There are several factors that contribute to the growth of home care and senior living demand and spending. Let's break it down.

Pandemic Factor
Since the start of the coronavirus outbreak in 2019, hospitals focused on treating COVID-19 patients. It led to the sharp growth of home care demand. In 2021, 62% of agencies interviewed for Home Care Pulse's Home Care Benchmarking Study indicated that they saw an increase in demand for their services.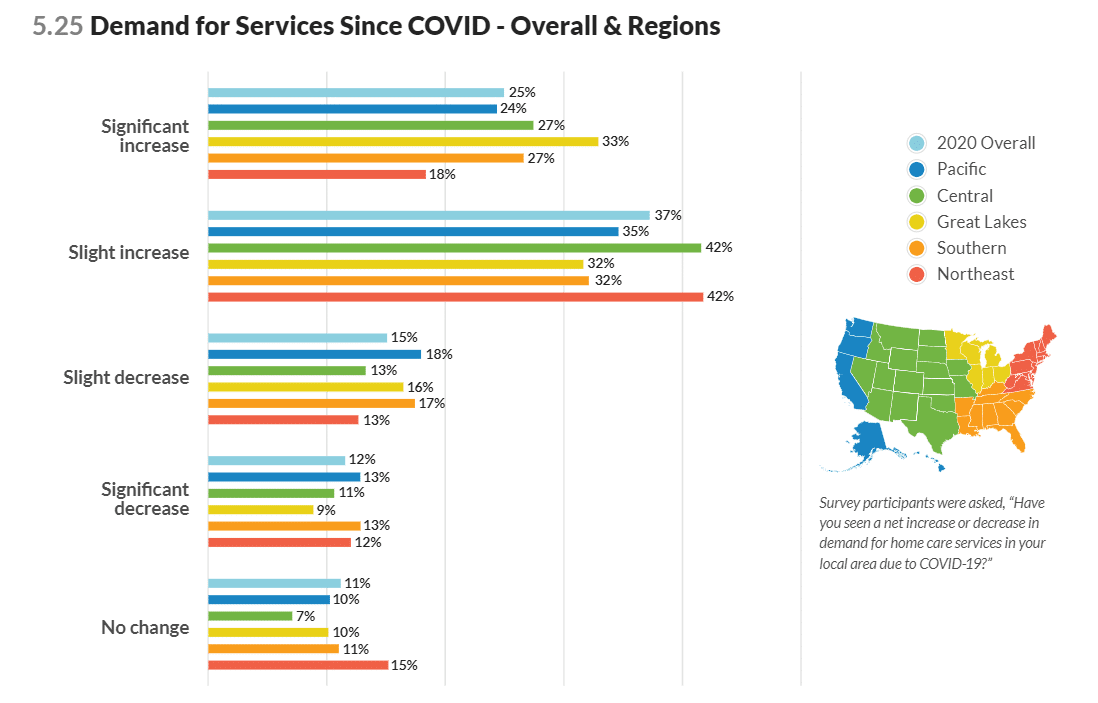 Amid the pandemic, home care proved to be safer for patients with chronic conditions. At the same time, it significantly improved their quality of life. Even as the coronavirus threat starts to dwindle, there is no sign of this trend changing anytime soon.

Population Aging
Baby Boomers are growing older, and we are on the brink of a massive shift in the population age. In 2016, there were about 49 million people over the age of 65 in the US. Census Bureau projects that by 2030 their number will surpass 73 million, and by 2060 reach 94 million. It means that the demand for home care and senior living services will only grow in the next few decades.

New Tech
The rapid development of new tech and digital tools opens countless possibilities for the home care and senior living market. Remote monitoring and diagnostics, telemedicine, sensor technologies, and more – the future of home care and senior living tech looks brighter than ever.
And venture investors know that as well: in 2021, digital health startups raised over $29 billion – almost twice as much as in 2020.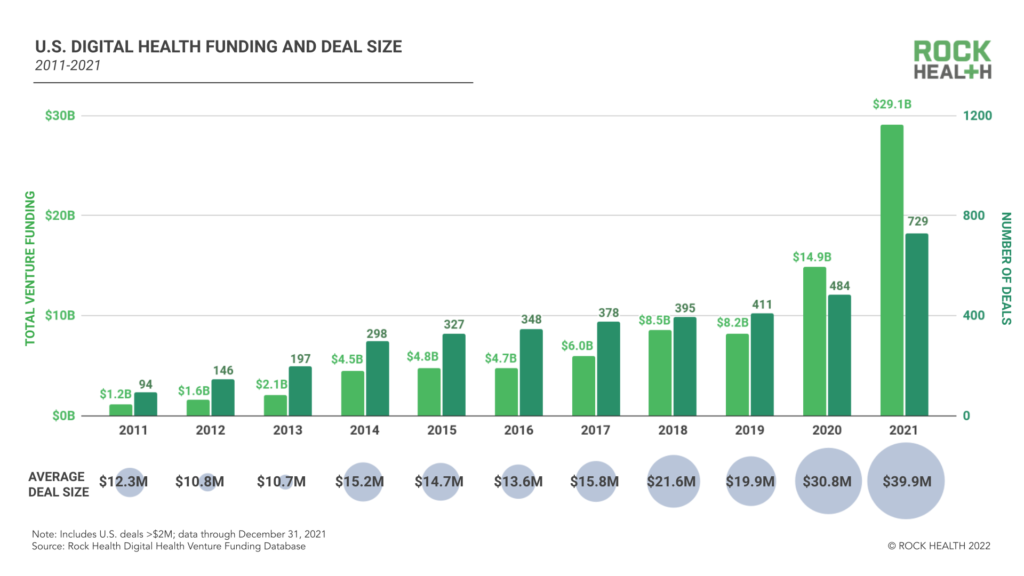 Challenges to Overcome
However, the future of home care and senior living is not all sunshine and roses. There are very serious challenges laying ahead, and here are some of them.

Caregiver Shortage
Home care providers name workforce shortage and turnover rate among the main threats for their businesses.

There is a severe risk of supply not meeting the ever-growing demand for home care services. That's why providers must solve the problem of attracting new employees and increasing their retention rate. Among possible solutions, providers mention raising wages and offering more benefits to their employees.
Staff shortage is a huge issue for senior living facilities as well: for them, the trend of losing employees continued through 2021 even though all the other health service industries managed to recover that year.

Regulation Issues
Current legislation and outdated regulations do not provide adequate support for the evolving home care market, providers say. However, there are some positive signs: Choose Home Care Act of 2021, if approved, would allow eligible Medicare patients to receive extended home care services.
Nevertheless, to help the sector thrive, legislators must put more effort into modernizing regulations and instituting them in accord with the new reality of digital home care.

Logistics and Supply Chains
With the pandemic affecting the global economy and trade, many home care providers and senior living operators face logistic issues with goods delivery time stretching to months. But the problem is even deeper: for instance, computer chip shortage means that less cutting-edge medical equipment is available on the market. Moreover, prices for spare parts and raw materials needed to produce them increased drastically.
No one knows how long it will take for global markets to get back on track, which adds an element of uncertainty into the equation.

Be Ahead of the Curve of Home Care and Senior Living Tech!
With those concerns in mind, it is still an exciting moment to be in home care and senior living; growth opportunities combined with significant challenges create a unique situation. Being at the cutting edge of technology and adopting an innovative approach is a requirement, not an option.
Want to discuss the latest trends with the market leaders? Join us at HCT Expo on September 6-8, 2022 at Gaylord National Harbor, MD!